Sound Scouts for Clinicians
Provide Accessible Screening
that is reliable and escalates children to a full audiological exam when required.
Improve Referral Processes
by moving children along the correct referral pathway more quickly.
Access Results Securely
and Immediately In-Clinic through the Clinical Portal.
Sound Scouts Chief Scientist Professor Harvey Dillon explains how the game works:
"The Sound Scouts hearing game looks and feels like a game when it is played by a five-year old (or older) child on a mobile device. However, it incorporates several advanced scientific principles that enable it to detect a range of hearing problems...
The game comprises three interleaved tests of hearing; two based on perceiving speech - one in noise and one in quiet - and one based on perceiving tones against a noise background. Each of these constantly adapts so that the child is always listening at the edge of his or her hearing capability. Algorithms within the game check that the child is responding reliably, as well as measuring the child's actual ability. The results from the three tests are combined to automatically display a test result as soon as the game is completed."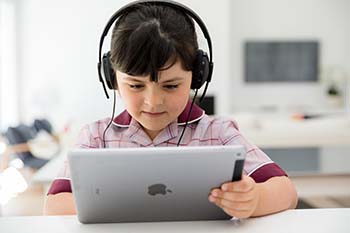 Sound Scouts has been developed in collaboration with the National Acoustic Laboratories, a world leader in hearing assessment and rehabilitation. It's recommended and accepted as a referral by Hearing Australia and supported by NSW Health.
Sound Scouts incorporates the science of a hearing test in a fun, interactive game. Sound Scouts tests children for the three main types of hearing loss; sensorineural hearing loss, conductive hearing loss and listening difficulties in noise. Results are delivered securely and immediately in a report.
Applications of Sound Scouts in Clinics
Although the principal use of Sound Scouts is to detect previously undiagnosed hearing problems in school aged children, the test has other potential applications.
Post-treatment Monitoring
Following detection of significant conductive loss, there is a need to determine whether treatment (antibiotics or ear ventilation tubes) or watchful waiting have resulted in correction of the hearing loss. This is usually achieved by an audiologist assessing hearing by tympanometry or hearing thresholds, or by a medical practitioner otoscopically examining the eardrums. When access to a hearing health professional is not readily available Sound Scouts provides a convenient method by which hearing status after treatment can be monitored.
Sound Scouts can be utilised in a telehealth style capacity with the child playing the test remotely and the clinician able to log in to the Sound Scouts clinical portal to review the results.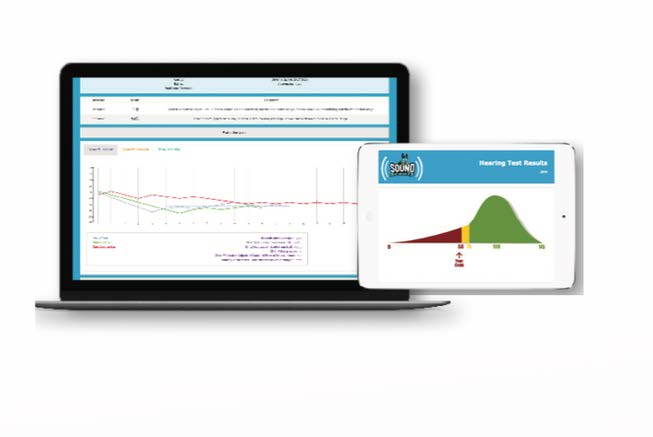 Auditory Processing Disorder
It is known that protracted otitis media in early childhood strongly predisposes children to acquire spatial processing disorder (Cameron et al., 2014; Tomlin & Rance, 2014). Sound Scouts has been specifically designed to be sensitive to this condition, so its use after treatment for otitis media will likely also detect those children for whom otitis media has resulted in spatial processing disorder, for which separate remediation is needed, is already available, and is highly effective (Cameron et al., 2012). The test can be used for this purpose for any children over 4 years of age, which is considerably lower than is achievable by any other tests of auditory processing ability.
Potential Use by Hearing Professionals to Test for APD
There are no existing tests for auditory processing disorder (APD) that are usable for children below 6 years of age, and all but one test requires the child to be at least 7 years of age. Some clinicians will not test children below 8 years of age. Sound Scouts has been designed to be usable down to 4 years, and normative data exists down to 4.2 years. Consequently, Sound Scouts potentially provides a means for professionals to detect APDs in an age range for which no other test exists. The realistic nature of the Sound Scouts speech-in-noise task makes it very likely that any abnormalities Sound Scouts detects have functional significance for the child, and so can be compared against child-, parent- and teacher-report measures
Clinicians can register for access to the Sound Scouts Clinical Portal. The Clinical Portal provides details of each patient's test results. Clinicians can view the three components of the test - speech-in-quiet, speech-in-noise and tone-in-noise - along with other key test information. To register your interest please email contact@soundscouts.com.au.
On July 1, 2023 Sound Scouts moved to a paid model.
Please contact the team for more information.
Email contact@soundscouts.com.au or Call 1300 424 122 for assistance.