The Scientist & the Storyteller: Create a fun solution to Test Hearing
August 23, 2020
by Elizabeth Linsdell
At face value, the Sound Scouts app could be the latest Fruit Ninja, a fun-filled game featuring bright colours and three playful 'activities'. But instead of a dose of short-lived serotonin, Sound Scouts provides an assessment of the 'players' hearing levels.
For parents who test their children with the Sound Scouts app, the report speaks volumes about the child's hearing health and listening abilities. It has the potential to be a catalyst for a life-changing process of identifying and addressing a hearing issue, that left undetected could prevent a child from reaching their full potential.
Sound Scouts is a game-changer in the world of hearing health. A world where over 466 million people suffer from disabling hearing loss. In Australia, an estimated 1 in 10 children suffer from hearing difficulties. Often missed, or misdiagnosed as a behavioural issue, hearing loss is a silent perpetrator that impacts our children's development in the classroom, the playground, and at home.
To make it easy to uncover children's hearing issues, a new and creative approach was in order and a 'creative' took the reins in developing the solution.
Carolyn Mee, CEO of Sound Scouts, was previously a creative content producer with decades of media production experience. A mother herself, Carolyn's idea of Sound Scouts came from recognising the challenges faced by parents in getting their children's hearing checked.
I remember having to take my boys out of school, I had to take the afternoon off work to take them to a clinic where they went into a small booth, which they both found very foreign and distressing. Their hearing was fine, which was good to know, but it made me think…. there must be an easier, more convenient and accessible way to check our children's hearing.
A course in digital media introduced Carolyn to the concept of serious games. A serious game, or 'applied game', is a game designed for a primary purpose other than pure entertainment. Carolyn could immediately see the potential. But the challenge of testing children's hearing was not something Carolyn could solve alone. Expertise in the hearing was required, and it wasn't long before Carolyn was introduced to a leader in the field, Dr. Harvey Dillon.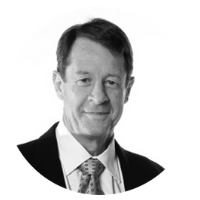 Author of over 250 scientific publications, including a textbook on hearing aids which is widely used internationally, our Chief Scientist Dr. Harvey Dillon began his career with the idea that "any advances could immediately help people".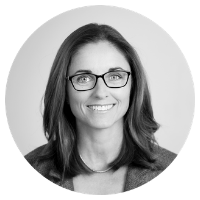 Our storyteller Carolyn's strong background in content creation, which included working on several children's television shows, equipped her with the skills to engage and entertain.
Creativity + Science = Innovation
In 2010 when the Sound Scouts journey began Dr. Dillon was the Director of the National Acoustic Laboratories, a position he held for 17 years, finally stepping down in 2018. Dr. Dillon was awarded his Ph.D. for his research into psychoacoustics - the study of the perception of sound or 'how people hear'.
This foundational work led Dr. Dillon to conduct research into improvements and innovations in hearing aids. Dr. Harvey Dillon is a prominent name in the field of hearing, well known for his substantial contributions to hearing aid research, including over 250 publications, and more recently, for his work on auditory processing disorders.
I do the hearing theory and Carolyn adds the creativity that keeps the children engaged to get the best out of them. I have appreciated her dogged determination to overcome any barriers that get in the way, says Dr. Dillon, reflecting on the journey that has brought Sound Scouts to this point.
Dr. Dillon's extensive knowledge in the field of hearing dictated what to include in a hearing test of the future and Carolyn's expertise in content creation, coupled with her insights as a parent, ensured the Sound Scouts test was usable and engaging.
In early 2019, the partnership of Mee, Dillon, and Chief Technical Officer, Cuauh Moreno, saw the Sound Scouts app launched as a free service in Australia, thanks to support from the Department of Health and Hearing Australia.
The app can now be used to check the hearing of all children aged four years and older in addition to adults, including parents and teachers. The app, a registered medical device, is being used extensively in schools, homes, and clinics providing advice to parents and educators on the next steps to take if a hearing loss is detected.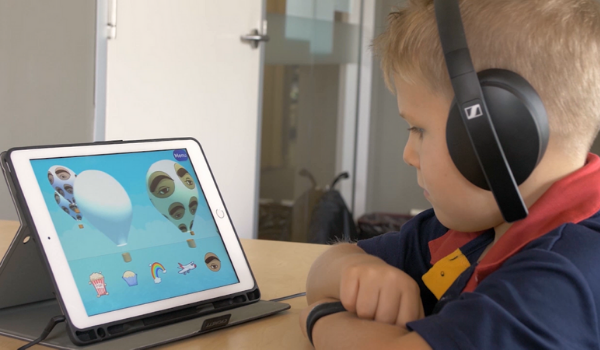 Harvey and Carolyn's partnership remains strong. Their collaboration on the app has allowed them to create a practical solution that is the perfect combination of creativity and science. The creativity ensures usability and a fun experience, the science ensures the outcome is reliable and evidence-based.
"I've enjoyed the combination of applying theory to come up with something practical, that works, and which is then put into practice to help people. The problem solving along the way, to make improvements and gain new insights is also enjoyable," says Harvey.
Along with extensive uptake in Australia, Sound Scouts has released localised versions for use in the UK and the USA, with early uptake showing promising results.
Sound Scouts continues to work towards eliminating undetected hearing loss one gameplay at a time.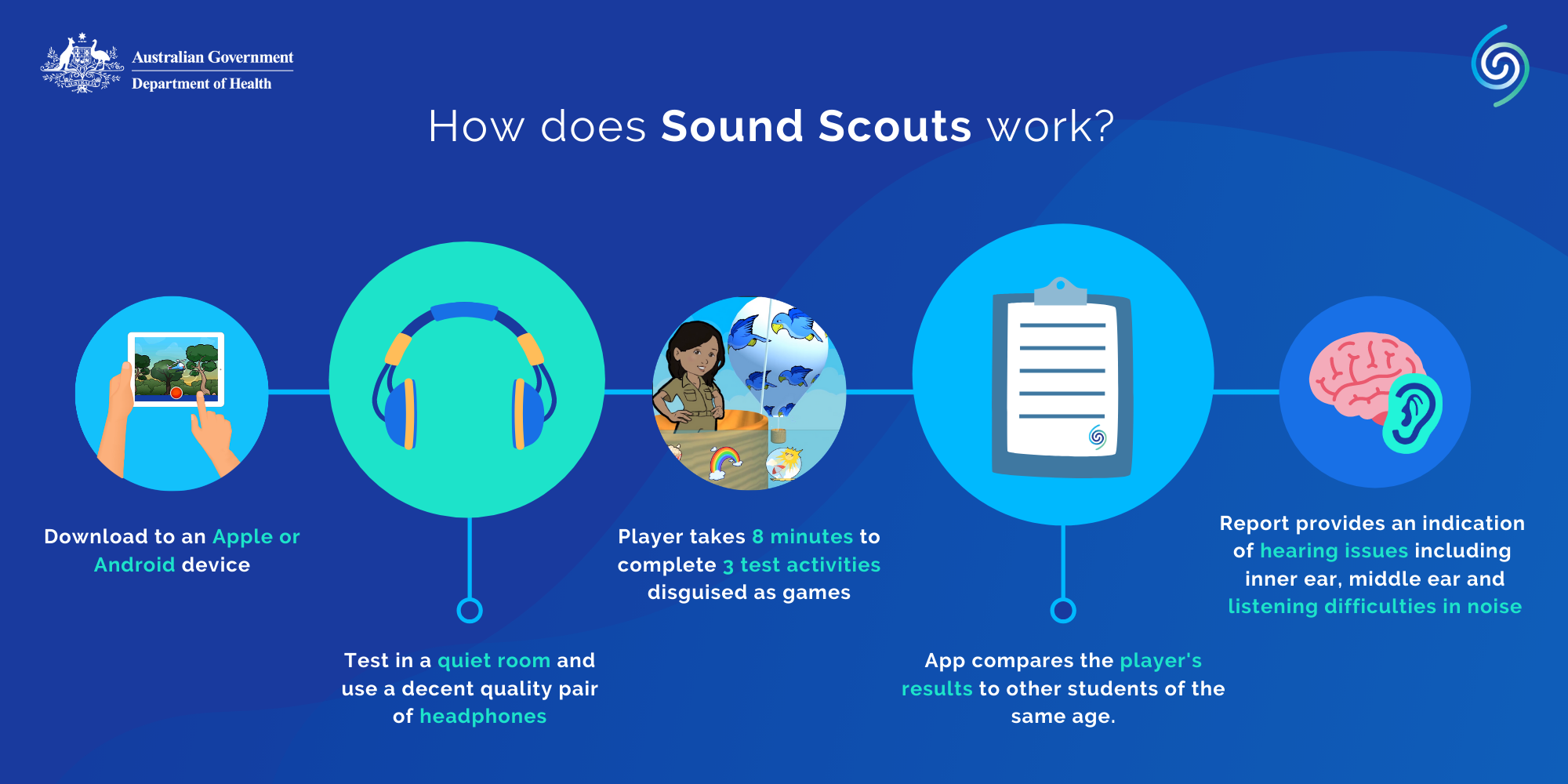 by Elizabeth Linsdell