Carolyn Mee, Innovator of the Year, 2020 Women in Digital Awards
November 9, 2020
by Elizabeth Linsdell
It looks like health got the nod at the 2020 Women In Digital Awards, as both recipients of the Innovator of the Year and Entrepreneur of The Year, are founders of innovative digital health solutions. Silvia Pfeiffer, CEO and founder of COVIU, an Australian telehealth platform, was awarded Entrepreneur of the Year and Carolyn Mee, CEO and founder of Sound Scouts, the Australian hearing check app specifically designed for schoolchildren, was awarded Innovator of the Year.
The notable accomplishments of Pfeiffer and Mee are a reflection of the innovation that has propelled the health landscape in 2020. With a pandemic that has torn people apart through social distancing and travel restrictions, digital health solutions have endeavoured to allow people to connect in order to ensure vital health services are maintained.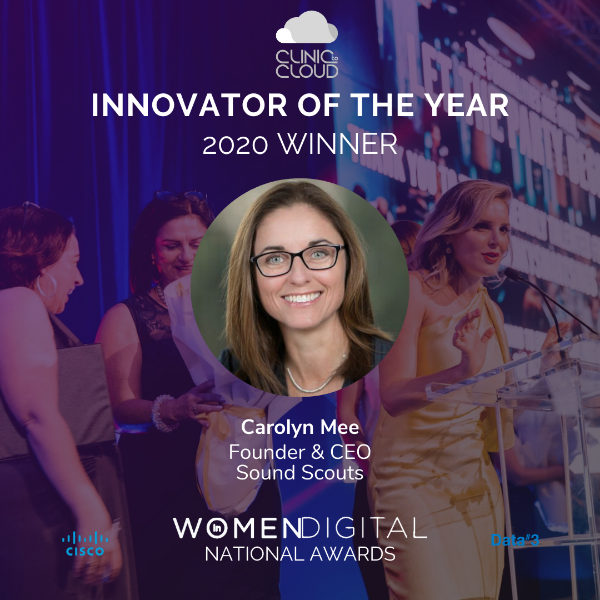 We are very excited to announce that Founder & CEO Carolyn Mee has been named Innovator of Year for the creation of Sound Scouts at the 2020 Women in Digital National Awards.
Since its inception, Sound Scouts has been honoured to receive multiple awards both nationally and internationally. We are so thrilled to add a Women in Digital Innovation award to these accomplishments.
The Women in Digital Awards were founded based on the idea 'you can't be what you can't see.' They are a celebration of incredible women within the digital industries and the organisations that support them.
The Innovator of Year award, sponsored by Clinic to Cloud, recognises the most forward-thinking, innovative and disruptive product, service or business enhancement of the year, awarded to Australia's leading female innovator.
Here's what the judges had to say about Carolyn's incredible innovation:
This was a strong submission and demonstrated the important COVID pivot.

Positive social impact, well-articulated entry and truly innovative – incredible submission.
Congratulations Carolyn!
Women in Digital is a global community dedicated to connecting, educating and empowering women in digital; from networking events, skills training, workshops, the prestigious, annual Women in Digital Awards, corporate & individual memberships and so much more. Women in Digital offers a wide range of opportunities to help organisations push for greater diversity and encourage individuals to develop their career and stay at the forefront of all things digital. There are so many ways to be a part of the WID community. Find out how you can get involved by visiting womenindigital.org.
by Elizabeth Linsdell