CASE STUDY
Summer kicking goals thanks to Sound Scouts

Listening to Sydney schoolgirl Summer H confidently call out instructions on the soccer pitch, you would never suspect she has been diagnosed with a unilateral (one ear) permanent hearing loss. The seven year old Sydney FC fan, who plays for her local soccer team, and loves singing and dancing, is described as a very happy, easy-going child by her parents Anthea and Brett.
Yet, it was thanks to Anthea discovering Sound Scouts, the app that detects hearing loss in children, which led to the diagnosis of Summer's hearing loss and the start of the journey to help Summer fulfil her potential on, and off, the pitch.
Summer was four when her parents noticed she was having speech difficulties and she was taken to a speech therapist to help her iron out her pronunciation of the letters 's' and 'h'. Mum Anthea never had an inkling that her speech difficulties might be in some way connected to a hearing problem.
However, the speech therapist encouraged them to get her hearing checked and they were lucky enough to be part of the Sound Scouts pilot scheme. Summer played the Sound Scouts game and on conclusion, it was very clear that Summer did in fact have a hearing loss, and quite a significant one at that. The game even explained that Summer would most likely have problems at school if she did not get further support soon. She was subsequently referred to hearing specialists, Hearing Australia for further assessment.
While Anthea was staggered by Summer's results, seeing them on the iPad screen, made the situation real. Anthea explained:
"Even when I knew that she had speech problems, I didn't really think it would affect her too much at school. However, seeing the hearing test results on the screen for myself after she had played the Sound Scouts game, it brought home the importance of the situation, and made it easier for me to accept that Summer had a hearing loss."
"This helped me as I was able to come to terms with the emotions that naturally occur when you are told that your child has a hearing loss. As a consequence, it allowed me to make the most of our first appointment with Hearing Australia, who would support her to manage her hearing loss, as I had already absorbed the fact that she had a hearing loss, and I was ready to take action to help her."
Hearing Australia confirmed Summer had a permanent hearing loss in her left ear and that it had probably been there since birth, but it hadn't been picked up in the newborn screening test.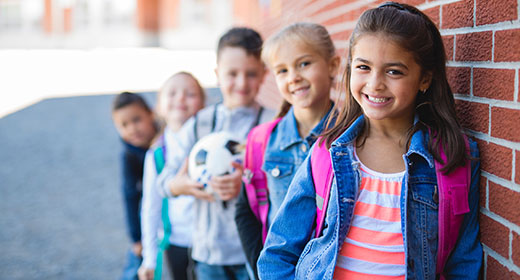 Anthea and Brett, together with the audiologists, discussed the best hearing management options for Summer, one that would primarily help her in the classroom. Summer now wears a hearing aid, which has had a huge impact on her learning outcomes.
Summer is thriving at school both academically and socially. Anthea said that they are so relieved that they downloaded the Sound Scouts app. She continued:
"Definitely give Sound Scouts a go. Summer genuinely loved playing the game, so it is no hardship on the child, and the results were clearly accurate in the end. It may turn out that your child has perfect hearing, but on the off chance they don't', it is time and money well spent."
Sound Scouts is available now to download from the App Store and on Google Play.