CASE STUDY
Elyse is all ears at school, thanks to Sound Scouts

When Elyse M, was five-years-old she was like any other pre-schooler, looking forward to starting kindergarten. Her parents, Kylie and Dalio, said that everyone who met her would warm to her instantly, thanks to her funny, loveable and cheeky personality. Meeting her today no-one would suspect that Elyse overcame a conductive hearing loss just months before starting school.
Mum Kylie, a part-time primary school teacher, says Elyse's bubbly nature and loud persona almost meant that her hearing loss went undetected. It wasn't until they discovered the App Sound Scouts, created to detect hearing problems in children, that they were able to help Elyse fulfil her potential and overcome her difficulties, just in time for starting school.
As a teacher, Kylie had often wondered why children were given a sight test prior to starting school, but not a hearing test, so was curious to discuss this with Carolyn Mee, who created Sound Scouts in collaboration with the world-renowned hearing research organisation, Sydney-based National Acoustic Laboratories (NAL).
Kylie noticed that Elyse was mispronouncing words, especially those starting with an 'h' sound, (which is a low sound for the human ear to detect), and she wasn't developing as her older sibling, Abbey, had done previously. Kylie had a faint suspicion that Elyse had a hearing loss, so Carolyn recommended Kylie download the Sound Scouts app and test Elyse's hearing.
Sure enough, Elyse was shown to have hearing issues following the completion of the Sound Scouts game. But this news still came as a shock to Kylie, so she asked family and friends if they had noticed if Elyse had hearing problems, but everyone said 'no'. For peace of mind, Kylie tried Sound Scouts again, and again the same result came back.
This time, Elyse was referred to Hearing Australia, the leading provider of hearing services for children and young Australians under 26. Hearing Australia's audiologists performed further assessments and confirmed that Elyse had a mild conductive hearing loss, which is caused by a blockage or damage in the outer and/or middle ear. Kylie said that it was at this point, that guilt set in for her as a parent:
"I felt so guilty that I hadn't picked up on her having hearing issues sooner. We just thought she had a loud personality, we didn't realise she couldn't hear properly."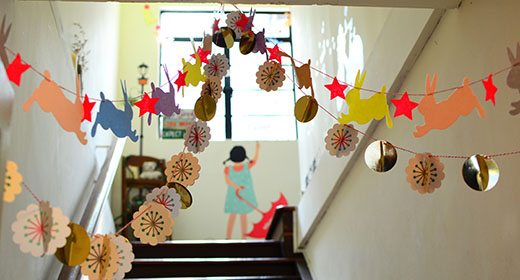 After a visit to an Ear Nose Throat specialist, Elyse was diagnosed with Glue Ear and a month following this diagnosis, her ears were fitted with grommets and her hearing improved.
"If I hadn't given Sound Scouts a try, I still may not have gone down this path and would have just considered her a late developer or just defiant in nature. I shudder to think how much she would have missed out on at school, both socially and academically if I hadn't downloaded the app."
"Sound Scouts is a fantastic interactive game and Elyse still asks to play on it just for fun. I recommend all parents of children with pre-schoolers or K-3, to test their child's hearing with Sound Scouts, as it's so easy to use and administer and it could significantly help their child's development in the long run."
Sound Scouts is available now to download from the App Store and on Google Play.